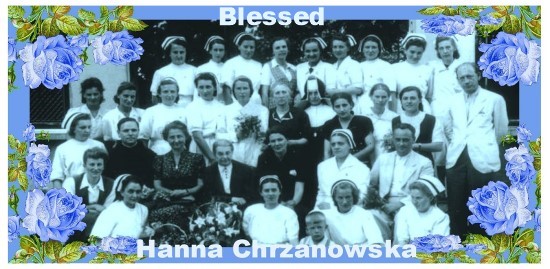 A SUMMARY OF THE LIFE OF HANNA CHRZANOWSKA
07/10/1902 -29/04/1973
Source 'Blessed Hanna Chrzanowska'by Dr Malgorzata Brykcznska RN/RSCN
On July 7th 2017 Pope Francis approved a miracle attributed to Hanna Chrzanowska . On 28th April 2018 she became the first lay nurse to be beatified by the Catholic Church. Hanna was a Polish nurse and nurse educator , a Benedictine oblate, and a champion of the needs of the sick and poor. Hanna was born in Warsaw and worked in Kraków for most of her life. In a country that did not have a community nursing service Hanna recognized unmet needs of chronically ill patients living in their homes and developed a nursing philosophy on pastoral care and needs of this often neglected group of people. Hanna profoundly influenced the approach of Saint Pope John Paul II towards the long term sick and handicapped and influenced his designating the feast of Our Lady of Lourdes (11th February) as a dedicated day of prayer for the sick..
Hanna Chrzanowska was born October 7th 1902 in Warsaw. Her father Ignacy Chrzanowski, was a renowned professor of Polish literature,. Her mother Wanda, came from a wealthy Lutheran family of Warsaw industrialists. Her mother's sister, Zofia Szlenkier founded a children's hospital in Warsaw and became a director of the Warsaw School of Nursing. In 1910, Hanna Chrzanowska's parents moved to Kraków where Professor Chrzanowski took the chair of Polish Literature at the Jagiellonian University. In Kraków Hanna attended a high school run by Ursuline sisters and she graduated with distinction. After leaving school she enrolled onto a Red Cross course in order to help nurse victims of the Polish-Bolshevik war. In December 1920 she commenced studies in the Department of Polish language and literature at the Jagiellonian University but when she heard of the establishment of a new school of nursing in Warsaw, she abandoned her university course and signed up to commence nursing studies there October 1922 in order to fulfil her dream of becoming a nurse. She attended the School of Nursing in Poland 1922-1924. Several months before she completed her course in Warsaw she was invited with a friend ,by the Director Helen Bridge,to go to Paris to study community nursing on condition that , on return to Poland she would start to work in the new School of Nursing in Krakow . No community nursing existed in Poland at this time and this time in France was to influence much of Hannah's later career in nursing
Prior to the outbreak of World War II Hanna had moved to Warsaw and had been offered the position of Vice Principle of the School of Nursing in Warsaw .Hanna was living in Warsaw when hostilities developed between Poland and Germany . By the end of 1939 Germany had overrun Poland and it was forcibly annexed to the Third Reich. During the war years Hanna experienced three personal tragedies . Her cousin Andrew Chzanowski , to whom she was very close ,was killed during the defence of Warsaw in 1939. On 6th November 1939 Hanna's father was rounded up with other Polish university professors and sent to Sachsenhausen concentration camp where he died January 1940 .Hanna's brother Bodhan , an officer in the Polish Reserves was sent to a POW camp in Kozielsk and with other Polish soldiers was executed in the spring of 1940. The University accommodation Hanna was living in with her mother had been taken over as living quarters for German soldiers so in 1939 she returned to Krakow and stayed with her mother in the apartment of friends for the rest of the war . Krakow had become home for many poor homeless and displaced persons and Hanna organized and trained a group of nurses and other volunteers to help provide material help ,accommodation and nursing care for those who were sick .She had a particular concern for the displaced women and children and secretly co-ordinated foster care for orphaned and other children separated from their parents with families and congregations of sisters who ran orphanages. Those she reached out to included Jewish families and as her activities were forbidden by the German authorities she risked being captured and executed herself .
Hanna in her early nursing years was a long time editor of the Polish Nursing Journal. She had also been a major contributor to pre-war nursing legislation in Poland . She was a founder member of CICIAMS International Catholic Nurses Committee which was established in 1933 and the Polish Association of Catholic Nurses of which she was an active member . She became a nurse educator and went on to become Vice Principal of Krakow School of Nursing .She then became Director of Kobierzyn School of Psychiatric Nursing , which was then soon closed under the communist repression in Poland forcing Hanna into early retirement in 1958 .It was following retirement that Hanna finally set up a Polish community nursing service through the development of a Parish Nursing service in Kraków . Today's Catholic nurses can relate to Hanna as a professional nurse , like themselves, to whom they can turn to and pray to for support and spiritual help.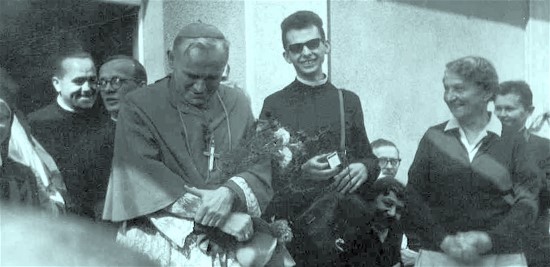 Hanna worked alongside and remained a friend of Karol Wojtyla during his time as Archbishop of Krakow and Cardinal of Poland prior to his time of becoming Pope John Paul II. Pope John Paul II was canonized a saint of the Church 27th April 2014 .
MUCH MORE INFORMATION AVAILABLE ON THIS POLISH INTERNATIONAL WEBSITE OF BLESSED HANNA CHRZANOWSKA DEDICATED TO PROMOTING THE CAUSE OF HANNA CHRZANOWSKA